+ ACTIVE COSMECEUTICALS
Concentrates and fluids +ACTIVE are designed for salon and home use and are high-tech anti-aging products based on low molecular weight hyaluronic acid and its oligomers, organic silicon, phyto stem cells, peptide biocomplexes.
Cosmeceuticals with signal peptides are an effective correction of age-related changes in chronological, hormonal and photoaging.
Peptide Complexes +ACTIVE:
BRIGHTENING FLUID - brightening fluid for the correction of age spots.
FIRMING FLUID - firming fluid for mature skin firms the oval of the face along the chin line.
MODULATING FLUID - modulating facial fluid to reduce and tighten double chin.
NOURISHING FLUID - nourishing fluid for face and décolleté intensive care for youthful and radiant skin.
NOURISHING EYE FLUID - nourishing fluid for the eye contour with enhanced lifting action.
ENHANCED LIFTING FLUID - nourishing fluid with enhanced lifting action for the face and décolleté.
REVITALIZING EYE FLUID - revitalizing eye fluid for dark circles and puffiness.
SMOOTHING FLUID - smoothing fluid to reduce mimic and age wrinkles.
MOISTURIZING FLUID - moisturizing fluid for the eyes with a rejuvenating effect.
Multicomplex preparations with peptides and hyaluronic acid oligomers for non-invasive delivery of nutrition to the deep layers of the skin. Reduce the depth of vertical and horizontal wrinkles after seven days of use. Peptides of the latest generation work as stimulators of the process of physiological cell rejuvenation.
Skin Care Emulsion +ACTIVE:
NOURISHING EMULSION - nourishing emulsion with antioxidant complex.
FIRMING EMULSION - firming emulsion with anti couperose complex.
Hyaluronic Acid +ACTIVE:
Hyaluronic acid +ACTIVE is an indispensable assistant in rejuvenating your skin. Thanks to its low molecular weight composition, it penetrates into the deepest skin and restores it at the cellular level, providing a powerful therapeutic effect.
HYALURONIC ACID - hyaluronic acid with a complex of sebum regulators.
Non-injection biorevitalizants with peptides and organic silicon +ACTIVE:
REVITALIZATION AND LIFTING - low molecular hyaluronic acid with DMAE, peptides and organic silicon.
REGENERATION AND TIGHTENING - low molecular hyaluronic acid with peptides, collagen and organic silicon.
PLUS ACTIVE COSMECEUTICALS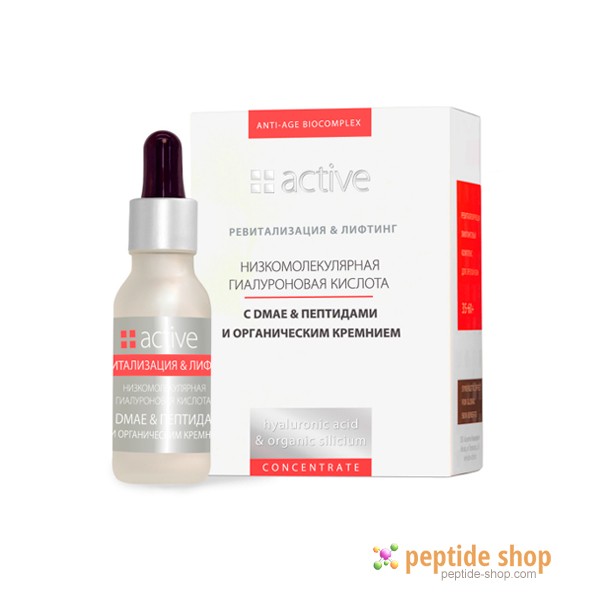 Intensive concentrate with...
Intensive concentrate with...